Introduction
MakersPlace is the only internationally accredited STEAM organisation in Ghana today. The organisation is leveraging emerging technologies within robotics, drone technology, mechatronics, TinyML, coding, computer-aided design (CAD), and 3D printing to skill the future workforce today. We are driven by impact; therefore, we use highly certified STEAM facilitators who have the requisite knowledge and know how to facilitate the skills development of students, teachers, and other participants within the K-12 education band.
As a K-12 Science, Technology, Engineering, Arts, and Mathematics (STEAM) education solutions provider, we want our facilitators to have the requisite certifications before allowing them to facilitate training. Their ability to connect with our student base makes all the difference which is why we are so big on continuously developing our team of facilitators and encouraging them to never stop learning! Instead of taking the traditional unidirectional educational setup of teacher-to-student, we have empowered our facilitators to open up the dialogue between them and their students to ensure a back and forth communication that edifies all parties involved.
Why get certified?
The Arduino certification exams are proof of competence for anybody teaching Arduino-related subjects. Having the official Arduino certification demonstrates the understanding and ability of our facilitators and tutors in the following topics: electric theory, programming syntax, passive and active electronic components, Arduino IDE, frequency and duty cycles, circuits and schematics, programming logic, and Arduino boards.
Meet the Arduino Certified Team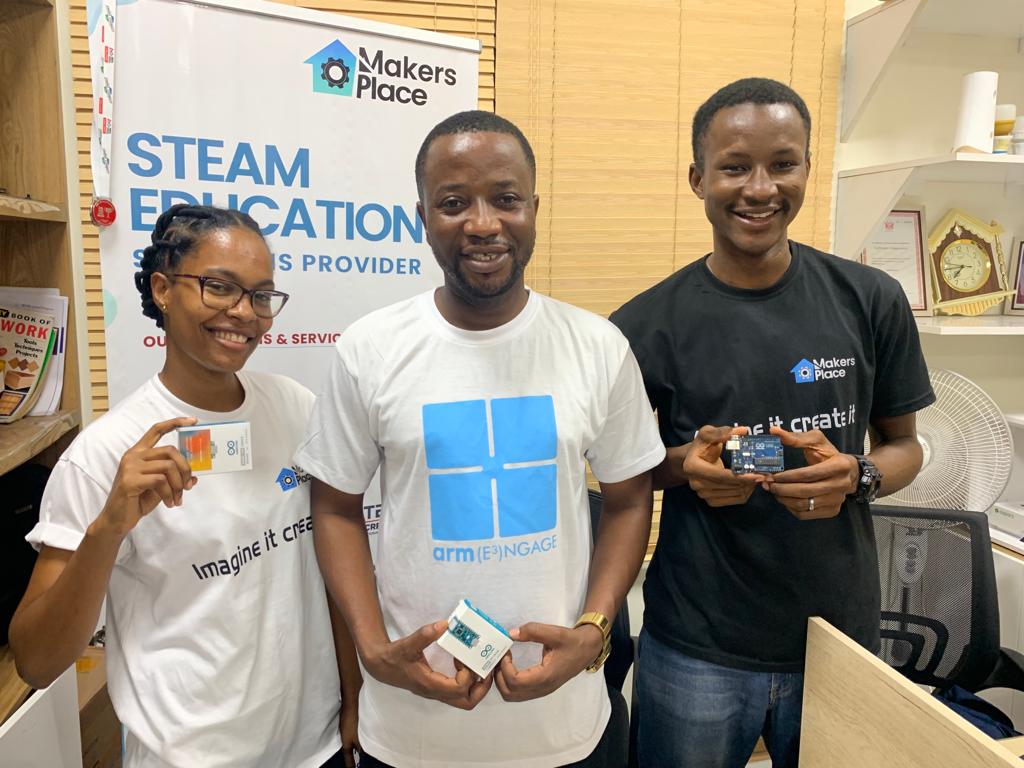 Karen Sakyibea Osei Mensah is a lead facilitator at MakersPlace you can call her the 'Tech Unicorn'. Karen graduated from the University of Ghana with a Bachelor of Science degree in Agriculture Engineering; however, her passion lies in STEAM. Being the team leader of M-Place Girls, she strongly advocates for girls in STEAM. She has proficiencies in embedded systems to tackle problems in Agri-Tech, IoT, 3D modelling and 3D Printing.
Douglas T. Ayitey is the Founder and CEO of MakersPlace. He is a STEM.org certified Master trainer in Ghana and the West Africa sub-region. Douglas holds a Master of Science degree in Energy and Sustainable Management and a Bachelor's degree in Electrical/Electronic Engineering. His research areas are energy efficiency and conservation, industrial internet of things IIoT, Internet of Medical Things (IoMT), and Robotics. He has peer-reviewed publications in well reputed international journals and has presented at conferences.
His exceptional communication skills, unique interpersonal skills, strong team player mindset, and abilities to mentor and lead, coupled with excellent organisational skills, is what is driving the success at MakersPlace Ghana. His passion for STEM/STEAM disciplines and his desire to help young people have quality, practical lifelong learning experiences as they prepare for future careers is unparalleled.
Philip Awenseba Agambisa is a lead facilitator at MakersPlace. Philip holds a BSc in Biomedical Engineering from the University of Ghana. He has expertise in electronics, circuit design and simulation and embedded C programming to address healthcare related problems. His passion is training students in STEM/STEAM-related activities, so they may build a range of skill sets, such as problem-solving, critical thinking, creativity, and decision-making, to excel in any future career.
What's next?
MakersPlace will organise physical/virtual workshops and offer these certification programs at our Hub to STEAM teachers, hobbyists, developers, and organisations already teaching about Arduino in schools without the Arduino certificate of competence.
If you find yourself in this situation and want to be officially certified, please feel free to reach out to us by signing up here: Register
Acknowledgements
Special appreciation to Stephen Ozoigbo, Marvin Rotermund, Robert John, The Embedded Learning Challenge team and the Cortex Hub. This program is an Arm(E3)NGAGE initiative in partnership with MakersPlace to train more learners across Ghana and the broader continent by driving initiatives to help close the STEAM skills gap.
Find out more information by visiting: