ACCRA, GHANA — MakersPlace, led by its founder and CEO Douglas Ayitey, renowned for advancing STEM education in Ghana, is proud to announce a landmark partnership with STEM.org Educational Research™. This collaboration promises to revolutionize STEM education across the ECOWAS sub-region.
Douglas Ayitey, with his rich background in Electrical/Electronic engineering and impressive experience in curriculum development and teaching, is on a mission to ignite the passion for STEM in young minds. Through MakersPlace, Ayitey has not only championed STEM education but has actively mentored both young learners and educators, imparting valuable skills in robotics, programming, and AI. His vision is clear: empower the next generation with the essential skills they need for both successful professions and a lifelong love of learning in STEM fields.
Known for his exemplary interpersonal, communication, and teamwork skills, Ayitey's leadership at MakersPlace ensures that every learning experience is dynamic and impactful. The results speak for themselves. Under his guidance, countless learners and educators have strengthened their technology and computing capabilities.
In recognition of his outstanding contributions to the STEM community, Douglas was honored as the micro:bit champion 2023 and appointed as an Arm Ambassador. Further elevating his impact in the sector, Ayitey has taken on the role of STEM.org's Director for the ECOWAS Sub-region.
The partnership between MakersPlace and STEM.org Educational Research™, sealed with a Memorandum of Understanding (MOU) signed by both Ayitey and Mr.
Andrew B. Raupp, the Founder of STEM.org, aims to bring STEM credentialing to Ghana and its neighbouring ECOWAS countries.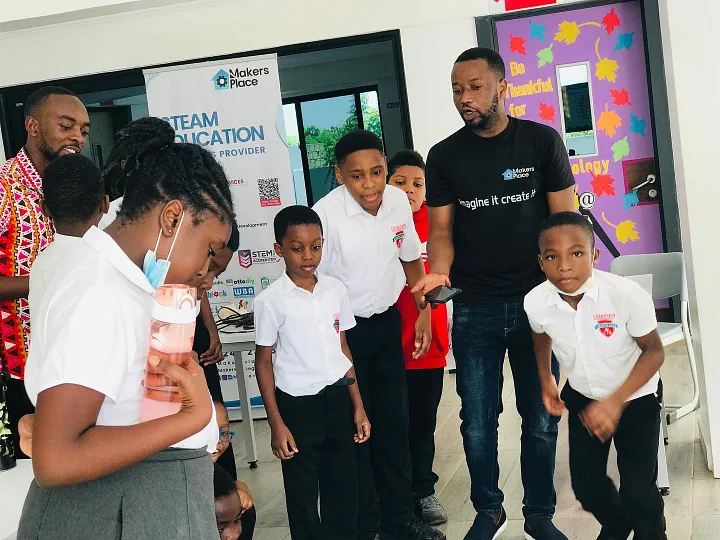 This collaboration promises not just to advance STEM education in the region but also to build a future where young minds are prepared, enthusiastic, and capable in the face of tomorrow's technological advancements.
For further details or to engage in this transformative journey, you can contact:
Douglas Tetteh Ayitey
Founder, MakersPlace
STEM.org Certified™ Master Trainer
Tel: +233 24 93 1817
Follow: LinkedIn
Visit: MakersPlace